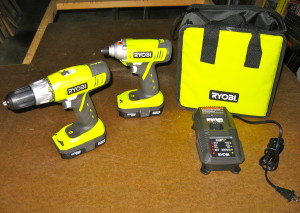 This is a review of the Ryobi P882 Drill and Impact Driver Kit. I got it at Home Depot. It is a 18 Volt Lithium Ion setup. My previous cordless drill was a 12 volt nicad Hitachi which always seemed slow to me. There is a substantial increase in power with the new drill. I like the Lithium power-pack because the speed of the drill does not decrease as the power pack gets drained and they hold a charge a long time when stored. At first I did not like the color, but it is growing on me. It comes with a soft case, rapid charger and two battery packs. You can get larger battery packs, but I find the ones supplied last long enough for my use. The included charger rapidly recharges them in under an hour.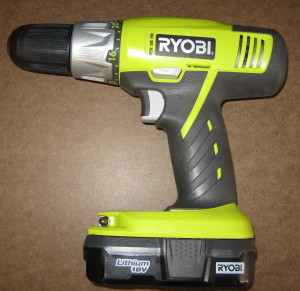 The drill is a 2 speed range 0-440 rpm and 0-1600 rpm, 1/2″ chuck, 24 clutch settings. The chuck locks and has a long nose so it is easy to tighten and loosen. Has a level, storage for a driver bit, magnetic tray on the base to hold loose screws. I like the weight and how it fits my hand. It has enough power to drill large holes through oak.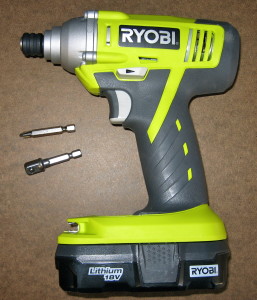 Impact driver is variable speed, has locking chuck for  standard  1/4″ hex bits. It also comes with a 3/8 inch socket adapter for driving lag bolts, etc.. It acts like a regular variable speed drill until it meets resistance. Then it switches over to impact mode, giving it more torque. It really snugs fasteners down. Works great on lag bolts and fasteners.
This kit is a great addition to the tool collection of the  DIYer. I sold my 2 year old nicad drill when I got this one as it was such an improvement I didn't want to be bothered with the old technology. Especially the nicads rapid draining when stored. Hope this review helps.
My youtube video of the un-boxing is here.