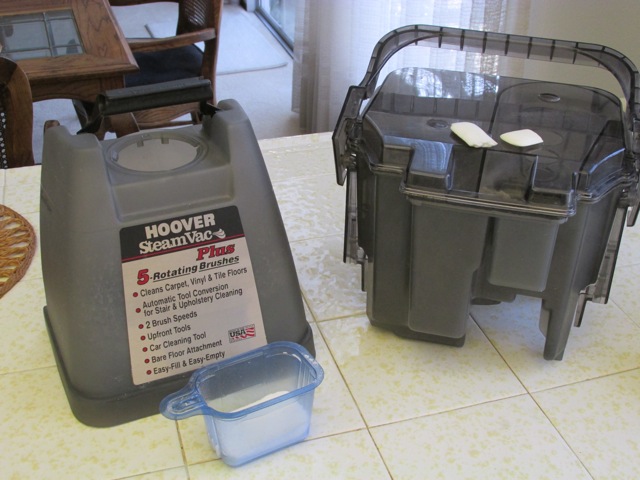 You can make your own carpet cleaner detergent substitute cheap. You can even make substitute de-foamer to keep the water picked up in the recovery tank from foaming up.  I did it and it is easy. You can use what you already have. Also known as carpet shampoo, solution, soap, it is all the same.
I have a Hoover carpet cleaner that I use several times a year to clean  high traffic areas. Works good  and I like the results. The price of the fluid adds up though, at $12 of more a bottle. Then you add on  the de-foamer and the spot treatment, it really adds up. I knew there must be a cheaper way, so I searched the web and saw it mentioned you can use laundry detergent. Made sense to me, since you are cleaning fabric.
After using it for a couple years, this is what I do. I use a teaspoon or less of powdered laundry detergent to a gallon of hot water. Think about how much you use in the clothes washer to a gallon of water. I don't see why you couldn't use liquid soap instead. If you use scented, your carpet will smell like your clothes do. You wouldn't use something with fabric softener in it. May attract dirt. As always put some of the solution on a rag and test a concealed part on the carpet for color fastness.
For de-foamer in the recovery tank, just put a small piece of bar soap in the tank. Fish it out and use it again. Works great! For the spot pre-treatment, I just spray some Formula 409 cleaner on the spot and rub it a little before going over it with the carpet cleaner. Spray some on a cloth first and rub a carpet area to make sure no color from the carpet transfers to the rag.
Those are the three ways I save some dollars cleaning my carpets.