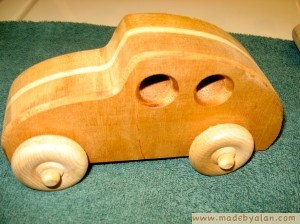 The woodworking club I belong to Woodworkers of Whittier (WOW), makes wooden toy cars for charity each year at Christmas time.  They have to be easy and cheap to build, because we make 1500 of them. Each member decides how many they want to make and the club provides the wheels. Guys come up with different designs. Patterns are traded and modified. There are certain ones I like to make. VW Bugs, Sports Cars, Trucks- with variations on each. (click here for a plan of one)
The wood used is 1 1/2″ thick or thicker. Too thin and the axel pegs hit each other. They can be shortened, but 1 1/2″ works great and happens to be the thickness of a 2×4. Common 2×4″ lumber works as long as it is dry. The club gets donations of cut off wood from different places. Nice scrap hardwood can be got free from places that make furniture, mantels, cabinets. We get 2×4 scraps from job sites. The VW above is made of mahogany scraps with a thin piece of oak sandwiched between to give the stripe. Sometimes I use oak, mahogany, maple, walnut , depends on what we get for free. Hardwood is harder to finish though. Cutting out the blanks is easy. Sanding, drilling the holes, adding details, rounding over the edges, final sanding is what takes the time. We are not allowed to put any clear coat finish on the toys because of government bureaucratic BS.
Playing around with the shapes of a car you can get something different. Cut the top off the sports coupe- you get a convertible. A basic truck shape can lead to various models.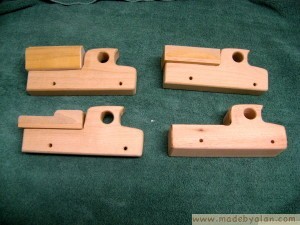 Add thin pieces of wood to make the bed. A donated piece of stair handrail makes a tanker truck.
The night arrives when the members bring the finished toys to "wheels and axels" night. The members get busy glueing and tapping the axels through the wheels and into the cars. Makes a big change to see the wheels on.
The wheels that the club buys are 1 1/2″ with 1/4″ hole. Like these on Amazon 50 Wood 1-1/2 Inch Toy Wheel W/1/4 Hole
 You also need to buy axel pegs too.
Drill a 7/32″ hole in car for the axel. Piles of cars arrive at the meeting and work commences with a lot of hammering and things getting done. Each year WOW gives cars and blocks to 22 charities. Some give out a toy with a Christmas meal and others let the kids play with the toys at the school.
It does not have to be done on a large scale. One person can do some  toys and give them away. Even better, an adult teaching a child to a make a toy and the child giving the toy to someone less fortunate. Now you have something special.