Here is a Grim Reaper Halloween Prop I made to put on my balcony. It has scared many a person as it stands 6 feet tall. At a distance it looks like someone is standing, looking down, ready to do evil. People don't like things looking down at them. Probably a primal fear. I hear "I thought someone was standing there" often.
It is made from a costume I got from a shop. Similar to this one California Costume Mens Horror Robe (weapon not included)
You can do this with any full costume if you make a "skeleton", also known as a figure armature, underneath. This one is made using 3/4″ PVC pipe and some 90 degree fittings, 1 Gallon milk jug for head, bubble wrap or paper to fill out shoulders, 2″x6″ wood base. Click on pictures to enlarge.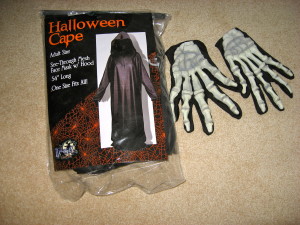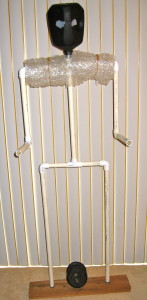 Here is the cutting list for a 6 foot guy using schedule 40 3/4″ PVC Pipe 164″ total. So 2- 10′ sticks.
2 legs 33.5″
1 spine 20″  1 neck  2″
2 upper arms 13″  2 lower arms 10.5″
2 shoulders 8″   2 hips 5.5″
PVC Fittings needed: 1 Tee (at hips), 1 Cross (at neck), 6- 90 degree elbows
I dry fitted everything together and in the end, I only glued the hips when I had the proper angle to lean against the balcony rail. I want to be able to take it apart for storage. Glue the parts you don't want to move, but be careful. If you glue all the parts, you may not be able to get the costume on. The base is just a 2×6 with 1″ holes drilled it. you may have to rock the drill when boring to oversize the hole a bit. My PVC was just over an inch wide. You will have to put a weight on the base. It will not stand on its own. I have it leaning against the rail for support. Depending on how you have your prop setup, you will have to make a suitable base. A larger piece of plywood with the 2×6 nailed to it, for example.
For the head I used a gallon water/ milk jug sprayed black except where I masked it for eyes. The back it opened up so I can put a light in it to make the eyes glow. A couple of those LED tea lights would work. I wrapped tape around the PVC pipe neck to make it fit the head (jug spout) tightly.
I used bubble wrap- wrapped around the PVC shoulders so the costume fit better. You are going to have to customize it for the costume you use. Email me pics on what you come up with.