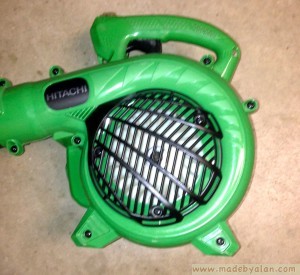 Hitachi RB24EAP Leaf Blower repair for loose impeller. I have had this leaf blower for 6 months, using it once a week with no problems. I like that it is rather quite, starts easy and works well. The other day when I was starting it as usual, it kicked back on me. It backfires and whips the starter cord out of your hand. It has never done this before. My old leaf blower did it all the time. It started on the next try and I used it on the yard as normal. Half way through I could hear something plastic rattling. I finished, turned it off and shook it. The impeller was loose hitting the housing. I got out the drill driver and took out the 8 screws that held the housing on.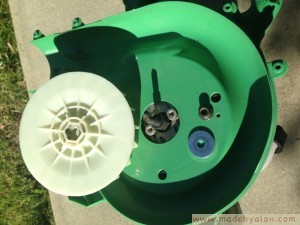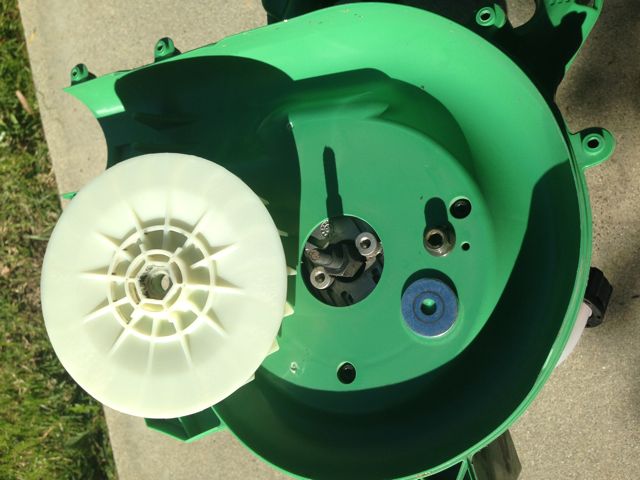 The nut holding the impeller on was loose. I took it all the way off, fearing that the plastic impeller was damaged. Turning it over I saw it was undamaged. Putting it back together I put  Permatex 24200 Medium Strength Threadlocker Blue, 6 ml

on the bolt threads hoping to prevent it from happening again. I don't know why they didn't do it at the factory. Holding the impeller I tightened the nut snug. Anyway the repair only took 5 minutes. I think what happened is when it backfired, going in reverse, it loosened the nut. Even though it needed tightening, I would still buy this tool again. Starts easy and does the job quickly.