This is a review of the Gerber EAB Lite razor knife. I love the Gerber EAB Folding Pocket Knife. Gerber 31-000345 E.A.B. Lite Pocket Knife, Fine Edge
It is a great everyday carry knife.
I carry it in my pocket every day, as I would miss it if it was not there. I have carried a pocket knife of some sort since I was 12 years old. Back then it was a Boy Scout knife. In those days you could carry a pocket knife to school and no one thought anything about it. "Be prepared" was the motto. Now it is "Be afraid"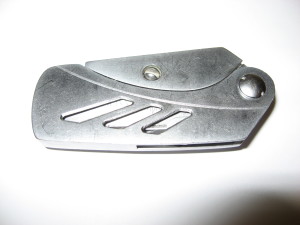 The reason I switched from a regular knife to a razor type knife is because I like a razor sharp blade. I can sharpen a regular knife very sharp, but it looses it's edge quickly when using it on everyday things like cardboard. Cardboard and paper are really abrasive. Not to mention when you use it on tape, it gets all gummy. On the EAB, when your blade gets dull and nasty, just flip the blade over. Talking about blades, when you need to buy new ones, make sure you get ones that are not too long. If they are, the blade will stick out past the metal body of the knife when closed. It could easily cut you leg while in your pocket. The Irwin ones I have a picture posted of, are the right length and do seem to stay sharp longer.Irwin 2084200 Blue Blade Bi-Metal Utility Blade, 20-Pack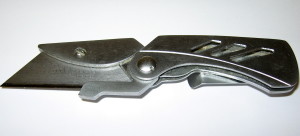 The one thing I do miss about a regular knife, is the ability to use its blade as a wedge. An example would be opening up a crack wider by inserting the knife edge and wedging it wider. A razor edge can not do that. If they added a flat blade screw driver to it, the EAB would be complete. It does come with belt clip I never use. Maybe Gerber could make a substitution.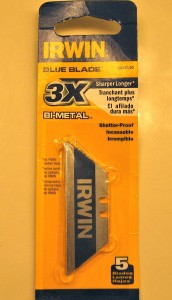 Overall The Gerber EAB is a great everyday carry knife. The one I have is the "lite" version. I guess this is because it has some grooves cut into it, trimming away grams of weight. I think it looks more cool than the regular version. Cool factor thumbs up! I would by it again in a heartbeat.